Estimated Arrival: Between Dec 05 and Dec 07. *ETA to the USA Only
Shipping & Returns: Fast Shipping, 30 Day Return most products.
 NuStep T6 Pro
With Free Grab Ring ($100 Value)
Price Match Guarantee
In stock, ready to ship
Free Shipping (ships fully assembled)
Full Service In Home Delivery Available: We offer a choice of free curbside shipping or Full Service delivery which includes freight transportation to your address and placement inside your home for a fee of $295. The delivery company will contact you prior to the delivery to schedule a date and time (4-hour window) for your delivery. The delivery personnel will place your NuStep in your chosen location within your home. They will also take the product packaging material away from your home. When you submit your order choose free shipping or full service shipping at the checkout page under shipping method.

I.  Easy to access and easy to use, the T6PRO makes total-body exercise possible for a wide range of users.
Low step-through design
User-controlled step length; smooth-stepping motion
Low-inertia start up; 15 resistance levels
Locking feature for handles and pedals
Flex-Foot system with option for dorsi/plantar flexion
II.  Engaging and Motivating Experience.
Dual-touchscreen console with HD display features intuitive software with engaging workout programs and easy-to-track metrics. Programs include:
Quick Start
Get on and go without setting goals
Pace Partner
Stay on track with a steady pace
NuStep Charts
View statistics based on performance
Trail Runner
Exercise in locations around the world
III.  Maximum Comfort and Adjustability
The ergonomically designed padded seat with a contoured back provides a stable, supportive position for users while exercising.
500 lbs. user weight capacity
360-degree swivel seat (locks every 45 degrees)
Reclining seat (an additional 12 degrees)
Arm and seat positions easy to adjust
40-degree hand grip rotation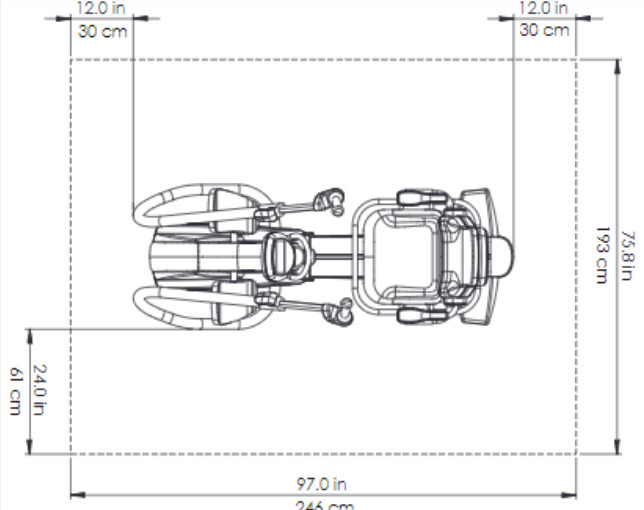 Machine Footprint:
73"L x 28"W x 52"H (185 cm x 71 cm x 117 cm)
Unit Weight: 
285 lbs. (129 kg)
Standard seat width:
18" (46 cm)
Power: 
AC adapter with front and rear power jacks
Height:
Fits users from 4'6" – 6'7" (137–200 cm) 
Weight: 
Supports users between 75 lbs. – 500 lbs. (34–227 kg)
Age: 
Recommended for ages 13 and up.
Features
Dual Screen Console
T6 features a dual-screen console with an easy to read touchscreen display.  The upper screen provides an interface for user engagement with an enhanced Pace Partner program.  The lower screen displays the workout metrics including time, speed (steps per minute), total distance, watts, calories, METs, resistance level and heart rate. 
Reclining 360 Degree Swivel Seat
T6 features a comfortable, ergonomically designed seat that rotates 360 degrees allowing users access onto the seat from any angle. For added comfort, the seat back reclines an additional 12 degrees.  The hip belt (shown on this model) and a torso belt (not shown) are optional accessories. They must be ordered at time of T6 purchase. 
Adjustable Arms and Hand Grips
Arms on the T6 are easily adjusted up to 18 inches (46 cm) using clamshell release levers.  Comfortable rubber hand grips rotate 40 degrees for optimum upper body positioning during a workout. 
Locking Handles and Pedals
Stridelock immobilizes the arm handles and leg pedals to maximize ease of entr and exit. 
Foot Secure System
T6 features two adjustable straps  on each foot pedal to keep feet stable and securely in place during exercise. Straps can be stored under the pedals when they are not in use. 
Functional, easy to use interface.
The lower screen displays all workout metrics including time, speed (steps per minute), total distance, watts, calories, METs, resistance level and heartrate*
The upper screen provides an excellent interface for user engagement with an enhanced Pace Partner program, Quick Start and Charting Apps
Admin mode allows for customization of the default settings

Heart rate monitoring through Bluetooth® wireless technology*
Audible feedback with volume control
3-minute console shutdown with extended pause option for interval training
Seat position readout displayed on screen
USB port for data export to PDF
Additional Features:
Easy start up – system wake up by touching the screen or stepping
Ergonomic hand grips rotate 40 degrees and sturdy arm handles, with easy-to-use clamshell release levers, adjust up to 18 inches
15 levels of resistance, easily changed during your workout using the lower screen
12-degree seat back recline

Durable, oversized foot pedals have non-slip inserts and adjustable foot straps
Integrated media shelf
Compatible with T5 series accessories and adaptive equipment
Optional grab ring and hip and torso belt for additional stability

Water bottle holder included
The following video shows the T6Max. The T6Pro is the same as the T6Max but with a standard size seat (18 inches).
---
QUESTIONS & ANSWERS
Have a Question?
Be the first to ask a question about this.
Ask a Question