Estimated Arrival: Between Dec 05 and Dec 07. *ETA to the USA Only
Shipping & Returns: Fast Shipping, 30 Day Return most products.
NuStep T5XR Recumbent (Seated) Cross Trainer 05002
In Stock, ready to ship!
Price Match Guarantee
Free Shipping (ships fully assembled)
Full Service In Home Delivery Available: We offer a choice of free curbside shipping or Full Service delivery which includes freight transportation to your address and placement inside your home for a fee of $295. The delivery company will contact you prior to the delivery to schedule a date and time (4-hour window) for your delivery. The delivery personnel will place your NuStep in your chosen location within your home. They will also take the product packaging material away from your home. Choose which shipping method you prefer, free shipping or full service, at the checkout page at the "Method" option under your address when you submit your order!
Ideal for home use!
I.  Easy to access and easy to use, the T5XR features an inclusive design and 600 lbs. user weight capacity.
Low step-through design
Locking feature for handles and pedals
Low-inertia start-up; 15 resistance levels
User-controlled step length; smooth-stepping motion
Flex-Foot System
II.  Engaging and Motivating Experience:
Monitor and track user progress, change resistance levels, select workout programs on the large, easy-to-read LCD display console. Programs include:
Quick Start
Get on and go without setting goals
Pace Partner
Stay on track with a steady pace
Target Heart Rate
Keep heart rate in target range
Constant Speed/Power
Maintain a constant speed or workload
Client Profiles
Five profiles for interval training
III.  Maximum Comfort and Adjustability
The ergonomically designed padded seat with a contoured back support provides a stable, supportive position for users while exercising.
600 lbs. user weight capacity
360-degree seat swivel (locks every 45 degrees)
Reclining seat (an additional 10-degrees)
Adjustable arm and seat positions
40-degree hand grip rotation
Features
1  Low step through design for easy on and off access.
2. Easy to read LCD color display. Allows users to change resistance levels, select from eight workout programs, and view current workout stats: time, distance, calories, watts, METs.
3 Adjustable arm handles: the easy to adjust clamshell releases located on the arm handle let users determine the optimal arm handle length. The rubber hand grips are soft, comfortable and easy to clean.
4. Foot Secure System: Two adjustable straps on each pedal to keep feet stable and secure.  Straps can be stored under the pedals when not in use. Pedals designed to accomodate feet of various sizes. The supportive heel cups help feet stay on the pedals.
5. Larger, comfortable, supportive swivel, reclining seat: spins 360 degrees and can be locked every 45 degrees. This allows people to get onto the seat from any angle. For added comfort the seat back reclines an additional 10 degrees. Contact, heart rate handles and water bottle holder are located next to the seat.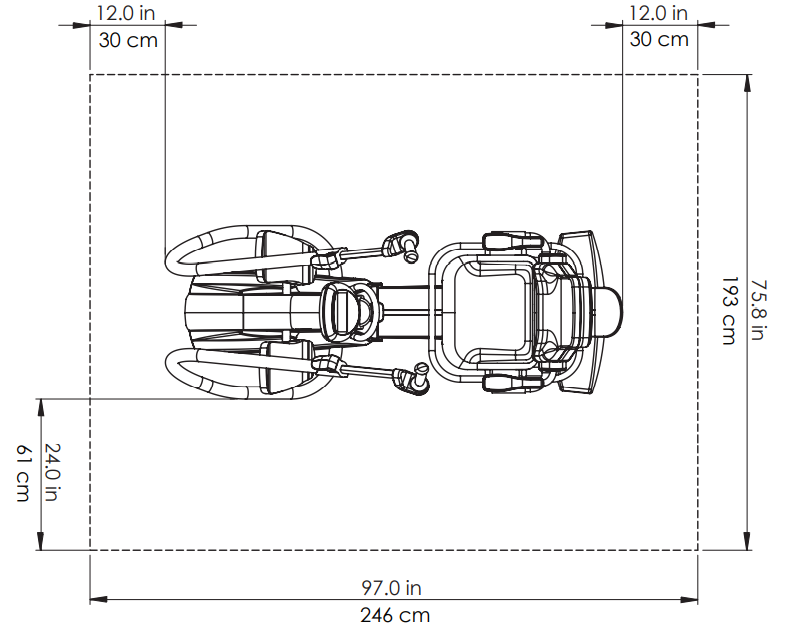 Machine Footprint:
73"L x 30"W x 46"H (185 cm x 76 cm x 117 cm)
Unit Weight: 
295 lbs. (134 kg)
Standard seat width:
18" (46 cm)
Power: 
12v battery
Height:
Fits users from 4'6" – 6'7" (137–200 cm) 
Weight: 
Supports users between 75 lbs. – 600 lbs.
Age: 
Recommended for ages 13 and up.
---
QUESTIONS & ANSWERS
Have a Question?
Be the first to ask a question about this.
Ask a Question